Ć'
LOKKA Differential Locker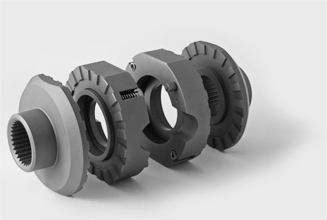 LOKKA is an automatic differential locker that is invaluable for Off-Roading. Whether fitted to front, rear or both differentials, Traction Performance is significantly improved in all realms of 4x4 and 2x4 performance activity.
LOKKA Differential Products
LOKKA is a fully automatic Differential Lock that does not require manual operation. It doesn't have switches, external lines, electric or pneumatic controls of any sort. It relies on a simple mechanical design which makes use of two distinct sets of forces - the "ground driven" forces acting on a wheel when cornering (that force an outside wheel to turn faster) and the forces from the engine (power) turning the differential and axles.
The combination of these two sets of opposing forces and the LOKKA design allow the automatic engagement and disengagement of the driving gears when a vehicle turns or requires differential action.
The Full Length 4WD Action Video

*Credit: 4WD Action
Wheel slippage or a loss of traction can occur for many reasons off-road and include excess throttle, fast approach speeds, limitations in wheel travel (especially independent front suspension vehicles), weight transfer off drive wheels & slippery surfaces such as mud, sand, snow, shale, wet grass etc.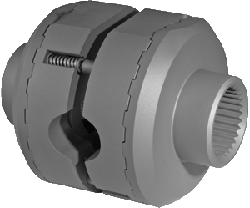 In many of these circumstances both the normal standard differential and LSD center will allow the wheels with the least resistance to spin. Thus the wheels with traction do not obtain any real drive and the vehicle will lose speed or stop. LSD centers might assist under these circumstances but only if they are in good condition and only if there is enough resistance on the spinning wheels to activate the clutch pack or gears to force drive to the wheels with traction. Even a new LSD will allow a lifted wheel to spin freely with no drive to the wheel with traction.
LOKKA overcomes the traction deficiency of the standard differential and LSD center to ensure that a 50:50 power split is achieved when driving, irrespective of ground (or air!) conditions, yet at the same time still allowing differential action when cornering on hard ground.
Whether fitted to front or rear or both differentials, Traction Performance is significantly improved in all situations.
LOKKA enjoys an excellent reputation for reliability throughout the world - sold in every continent, in all realms of 4x4 and 2x4 performance activity.
LOKKA's operation & effectiveness comparison to other differentials summary:
3 Year Unconditional Warranty in Australia
Smooth automatic operation
Extremely sensitive unlocking (finger touch)
Wide range of models available
Dependable performance characteristics
Positive locking for 100% traction
Unmatched reliability due to simple design
Doubles your 4WD's offroad abilities
Ultra resilient, steel alloys for durability
Simple installation - Do it yourself fit


Lokka Typical Components Assembly Relationship Axle gear, Spacer, Cam Gear

Lokka Typical Components Assembly Relationship Axle gear, Spacer, Cam Gear

Lokka Typical Components
Recommendations
Nathan A of NSW
Toyota Surf KZN130 1993
I recently bought 2 Lokkas off you for my Toyota Hilux Surf and have 3 bits of feedback for you.
Don't worry, it's not bad, quite the contrary actually.
First of all, the service I got from you leading up to the purchase, contained sound advice regardless of how stupid my questions were.
Secondly, I put in the order very late in the day but you still managed to get the parts to me the next day, 1200km away. It took me 2 bloody days to get a crown wheel delivered within Sydney.
Thirdly and sorry for being long winded but, I went on a 4WD course today and it was great to get out and test the auto Lokkas I had installed earlier in the week.
When I turned up at the course, the other guys (instructors included) all probably looked at in my 17 year old Toyota and probably though "this piece of shit is out of place". Everybody else was in new cars with electric everything and 101 different electronic driver assist gadgets installed.
Here I was in my sub $10K standard Hilux (apart from the Lokkas), surrounded by big some dollar machines, a new 150 series 5 door Prado, a new 150 series 3 door Prado (neither were base model), a 200 Series Sahara, a 120 series Prado Grande, a series 3 and a series 4 Land Rover Discovery.
Haha, with my secret weapon invisible and unexpected, the auto Lokkas transformed the Surf into the star of the day and embarrassed every other car in one way or another. The Land Rovers were the only competition due to the fact that they have every conceivable electronic traction aid ever invented, but they still couldn't match the smooth ascent ability created by the Lokkas.
I was astounded with the performance of the Lokkas and cannot praise them highly enough based on their first rigorous test.
While on the course, nothing ended up being a challenge thanks to the Lokkas. Hills where every other Toyota struggled, the surf walked up without spinning wheels or losing traction. I had to laugh though as it was embarrassing for the other buggers. It got to the point where nothing was stopping the car so I started picking the hardest possible lines forcing myself onto 2 wheels (opposing wheels front and back off the ground) continually, but still crawled up the hills at little more than an idle. Due to the lack of a challenge and as a joke, I actually slipped it out of 4 low and started doing the tracks in 2WD Hi (only the rear Lokka for traction) and it was still getting me up most hills with less spin than the others in 4WD.
I can easily see how a Lokka will reduce CV breakages in the front of an IFS equipped car, as wheel spin is basically non-existent when lifting wheels and you no longer need to get a run up with a heavy right boot to get up a hill full of wombat holes.
The highlight came at the end of the day when the lead instructor had a tricky track that they preferred only to be attempted by cars that have ascent driver assist aids. I was given "permission" to do it as I had seemed to be able to keep up throughout the day. The instructors set a simple challenge for this last obstacle and it was to try and get to the top and if you did, try to get to the top as slow and as controlled as possible but without ever stopping. Hahaha, I won that competition easily and showed up every car. It was easy because traction control systems are jerky due to the fact that the car has to wheel spin or stop before the car reacts to it and regains traction to continue. The Lokka prevented me from ever losing traction in the first place so was perfectly smooth without the jerky stop-start of the high-tech electronic aids.
We had spent the day watching each other attempt the challenges but by the end of the day, the other participants labelled me as boring to watch because I was crawling up hills so easily, not spinning wheels, was not revving the tits off my car spitting our rock and dirt damaging the track and my car to get up each hill.
Every hill got more difficult throughout the day and with each hill, my Lokka purchased was confirmed as money well spent. I could have bought a new set of tyres for the money I spent on getting Lokkas but I know that in a few years the tyres would be worn out and the Lokkas will still be going strong.
Oh yeah and finally, I have no affiliation with 4WD Systems but now think they F**KEN ROCK!!!!!
---
Ken R
Toyota LCR FJ62 1986
I wish you to send a Lokka for my cars rear diff. The Front one works so well, It's magic.
---
John H of NSW
Installed the locker on the wkend bit of work but nothing to complicated. As you well know majority of the time is soaked up in getting it out. Have to put it through its paces when I go to the cape in august. Thanks again for time look forward to doing business with you in the future.
---